[Radio Control Sailboat T50MOD Movie Page | Home Page | Owners Pictures | Movie Page | More Fun Pictures | Excellent Sailing Performance | Radio Control T37 | T50 Trimaran Radio Controlled Multihull | T Class Racing Sloop | Order Form]
Introducing the
T50 RC Racing Yacht
I absolutely believe our T50 RC racing yacht is the best of the best. The T50 combines the splendid traditional elegance of gleaming varnished wood with the ultra-light construction and strength of the most modern, hi-tech super-materials. The ultralight T50 sails incredibly. The entire weight of the finished boat is just over 8 pounds with 4.35 pounds of cast ballast at the bottom of the 20 inch deep fin keel. Six carbon fiber ribbons reinforce the hull in a matrix of West System epoxy. Carbon fiber is used to give a superb stiffness in the fin keel and for the mast. This is the same carbon fiber technology that Boeing is using in the Dreamliner. The building techniques are simple and straightforward with an excellent instruction manual full of pictures and very clear text. We feel anyone should be successful in building the T50, although it does take longer than the T37 since it is a bigger boat and there are more steps. For anyone who has already built a T37 or has some experience working with epoxy, the T50 will go together with ease. Build the T50 for its splendid and exciting sailing performance or build it to race. Between sailing outings, the T50's cedar hull is a beautiful display piece! This is pretty much the ultimate in model sailboats. I can't imagine a model boat I would rather own and sail.
Happy Sailing,
Will
The T50 is designed to be fast. The main reason for the boat's high performance is because the T50 is built to be so light. The hull with its full rig, batteries and radio control gear weighs only 3.25 pounds. The ballast keel and rudder weigh 5 pounds for a total weight of just 8.25 pounds. This is extraodinary considering the 50 inch length, 20 inch deep keel, and 73 inch mast.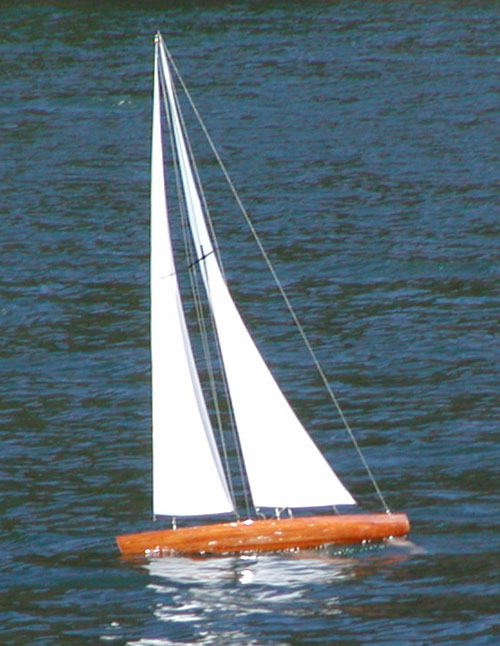 The T50 kit includes a mainsail, plus three different jibsails. You can choose your rig to suit the day's wind, or you can even sail without a jib on days with extraordinarily heavy winds. The largest sail area is 1200 sq. in., or the smallest is 625 sq. in.
Also included is a Hitec drum winch RC servo. This servo has the power to haul in your sails in any wind.
The building systems used in the T50 kit have evolved after over 30 years of designing, building and sailing model sailboats. After more than 65,000 boats built here at Tippecanoe Boats and talking with thousands of customers, we have developed building systems that work smoothly and well. The systems work for both beginning builders and the highly skilled craftsman. Some of the boats built from our kits are more beautiful than the boats I have built myself with every detail showing incredible depth of skill. Other boats have been built more quickly with the idea of "get the boat built and go sailing!" Both approaches work well and turn out happy builders and happy skippers. The big thing, when you start building a Tippecanoe Kit, is that you know the boat will sail beautifully. This is partly due to my 50 years of experience on the water with boats of all sizes, but equally as important are the months of sail testing and refinements that have gone into every design. Every boat we produce should be a work of art and perfect in every detail from the finest materials to the finest design concepts. Tippecanoe Boats is dedicated to giving you boats that are fun and rewarding to build and sensational to sail! I want your grandchildren and great grandchildren to be sailing this boat long after I'm gone! It is a fine legacy.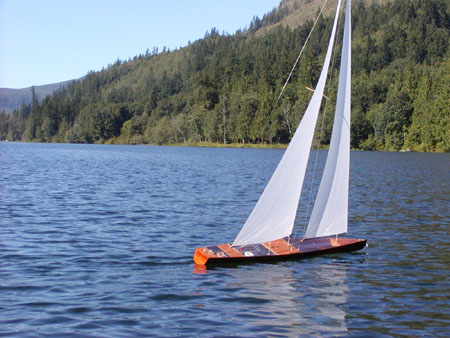 T50 Kit: $725.00
T50 Finished: $3900.00 (Please call for availability of finished boats.)
T50 Wall-hanging Stand $38
T50 Lakeside Stand (holds boat at the lake with keel in place, 8 feet tall with this stand) $51.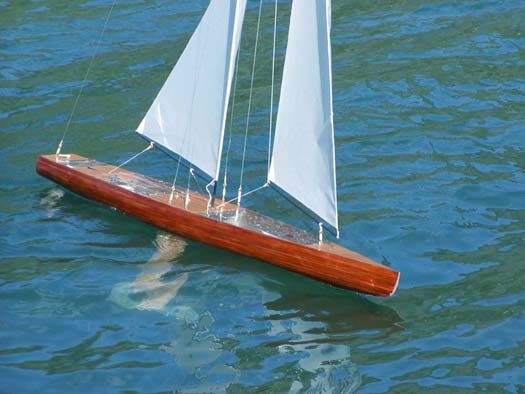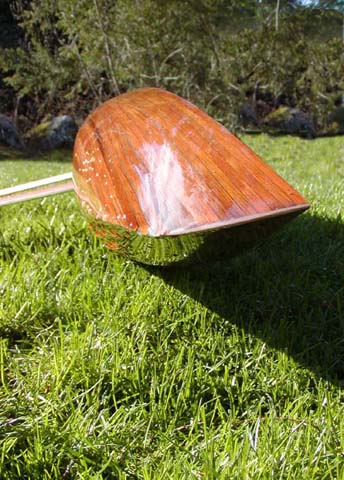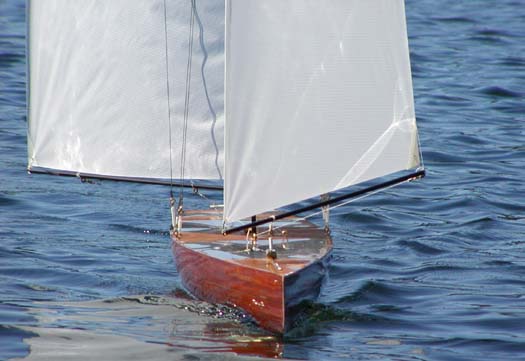 T50 - a simply
incredible boat,
very beautiful
and very fast!
[Radio Control Sailboat T50MOD Movie Page | Home Page | Owners Pictures | Movie Page | More Fun Pictures | Excellent Sailing Performance | Radio Control T37 | T50 Trimaran Radio Controlled Multihull | T Class Racing Sloop | Order Form]

Tippecanoe Boats, ltd. 4305 Nordum Rd., Everson, WA 98247 USA phone/fax 1-800-206-0006 1-360-966-SAIL