The Tippecanoe Boats T47 Fairharbor Schooner model is designed after the ships that sailed the oceans many years ago. Its two-masted design carries four sails, twice the number of any of our other boats. The massive amount of sail area is offset by a deep keel fin and lead ballast weight. The boat is rigged so that an RC sail servo controls all four sails simultaneously, and a rudder servo steers the boat.
[More T47 RC Schooner Pictures | Home | Order Form]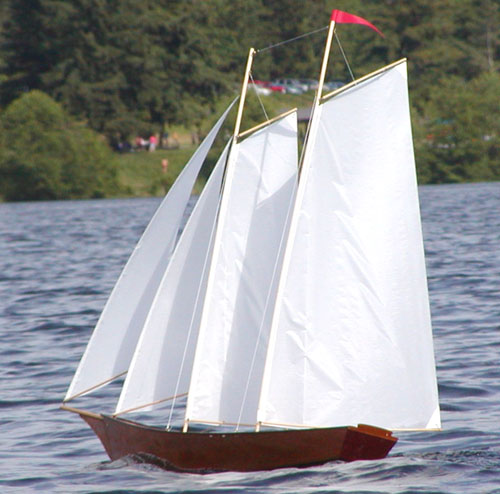 The T47 is a brand new concept for Tippecanoe Boats. Boasting more sails than any other boat, the T47's four sails power this large schooner forward in any air. Rig the boat up (usually a 2 minute job) and turn your radio controller on! The RC servo allows all sails to be adjusted together with just the flick of a finger. This T-Boat carries all the same elegance as the other models; brass hardware is exclusive in this kit for beauty and functionality that will last for years.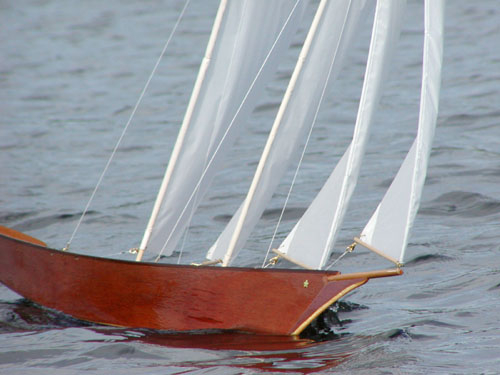 A bowsprit overhangs the bow of the T47, allowing the foremost jib to attach.
T47 Kit, everything included for building and sailing, except paint, varnish and batteries: $520.00.
T47 Finished: $1900.00. (Please call for availability of finished boats.)
T47 Table Stand $24.50. T47 Varnish kit for the deck $17. Veneer Deck Kit $20.50.
Around the Horn
One hundred ten years ago this jaunty Scotsman sailed around Cape Horn as a young boy of 15 on one of the great sailing ships, a three masted bark out of Hamberg hauling cargo. Forty four years ago Will Lesh, while in his last year of college, interviewed the 81-year-old sailor and recorded the entire live interview for this remarkable look into life aboard the last of the great sailing vessels rounding Cape Horn. Be transported in time to the days of the great ships as you listen to this never before released original recording.
[More T47 RC Schooner Pictures | Home | Order Form]

Tippecanoe Boats, ltd. 4305 Nordum Rd., Everson, WA 98247 USA phone/fax 1-800-206-0006 1-360-966-SAIL