The Tippecanoe Boats T47 Fairharbor Schooner model is designed after the ships that sailed the oceans many years ago. Its two-masted design carries four sails, twice the number of any of our other boats. The massive amount of sail area is offset by a deep keel fin and lead ballast weight. The boat is rigged so that an RC sail servo controls all four sails simultaneously, and a rudder servo steers the boat.
[More T47 RC Schooner Pictures | Home | Order Form]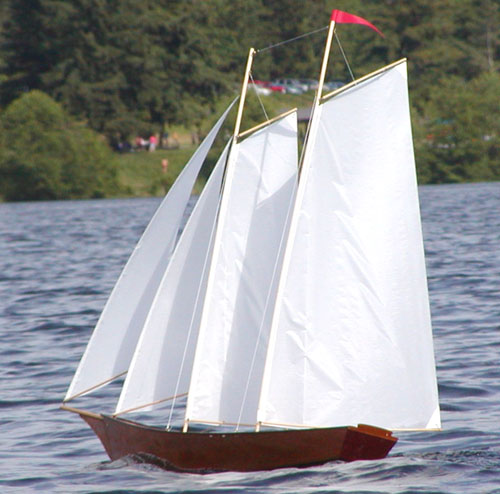 The T47 is a brand new concept for Tippecanoe Boats. Boasting more sails than any other boat, the T47's four sails power this large schooner forward in any air. Rig the boat up (usually a 2 minute job) and turn your radio controller on! The RC servo allows all sails to be adjusted together with just the flick of a finger. This T-Boat carries all the same elegance as the other models; brass hardware is exclusive in this kit for beauty and functionality that will last for years.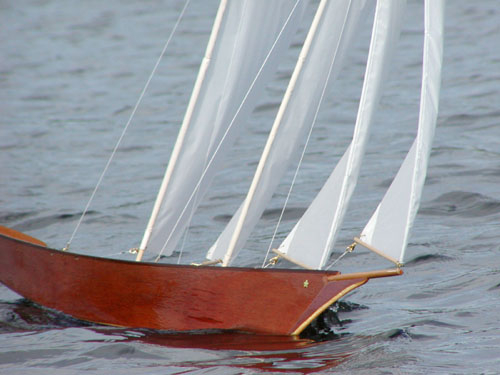 A bowsprit overhangs the bow of the T47, allowing the foremost jib to attach.
T47 Kit, everything included for building and sailing, except paint, varnish and batteries: $520.00.
T47 Finished: $1900.00. (Please call for availability of finished boats.)
T47 Table Stand $24.50. T47 Varnish kit for the deck $17. Veneer Deck Kit $20.50.
Around the Horn Interview
Click here for an exclusive interview of a sailor who sailed around Cape Horn.
[More T47 RC Schooner Pictures | Home | Order Form]

Tippecanoe Boats, ltd. 4305 Nordum Rd., Everson, WA 98247 USA phone/fax 1-800-206-0006 1-360-966-SAIL