[Home Page | More Movies | Owners Pictures | More Fun Pictures | Excellent Sailing Performance | radio control T37 | T Class Racing Sloop | T15 Racing Sloop | T12 Cruiser | Order Form]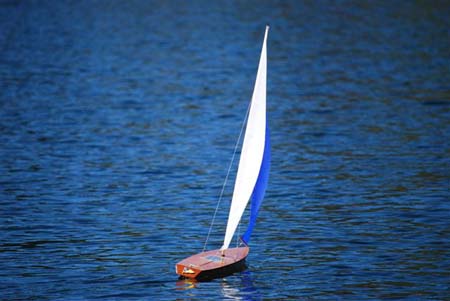 Below you will find a fun video of the T27 sailing. Half of the scenes in this video were filmed at Silver Lake in Washington State just 1/2 mile from the Canadian border. The rest were filmed on Lake Padden in Bellingham, Washington.
The splendid picture to the left of the elegant T27 sailing was taken by Barry Ford while he was cruising on his 40 foot yacht in Desolation Sound. Desolation Sound is a spectacular area of deep fiords and towering mountains where Vancouver Island meets the mainland coast of British Columbia at the North end of the Straits of Georgia. (See a map at Broughton Island Trip). Barry has built two T37s and this T27. He built his T27 especially to carry with him while cruising on the spectacular waters of the Pacific Northwest. You can see the West Vancouver Yacht Club Burgee decorating the transom of his T27.
Music in this video is by Philip Boulding, one of our most beloved artists! It is a genuine pleasure to provide a link to Philip's web site www.magicalstrings.com
Click on one of the following file sizes to view the T27 sailing video:
T27 RC Sailboat: Sailing Fun, click for largest file size (Windows Media Player /.wmv)
T27 RC Sailboat: Sailing Fun, click for medium file size (Windows Media Player /.wmv)
T27 RC Sailboat: Sailing Fun, click for small file size (Windows Media Player /.wmv)
T27 RC Sailboat: Sailing Fun, click for still smaller file size (Windows Media Player /.wmv)
T27 RC Sailboat: Sailing Fun, click for smallest file size (Windows Media Player /.wmv)
Happy Sailing, Will
[Home Page | More Movies | Owners Pictures | More Fun Pictures | Excellent Sailing Performance | radio control T37 | T Class Racing Sloop | T15 Racing Sloop | T12 Cruiser | Order Form]