[Home Page | More Movies | Owners Pictures | More Fun Pictures | Excellent Sailing Performance | radio control T37 | T Class Racing Sloop | T15 Racing Sloop | T12 Cruiser | Order Form]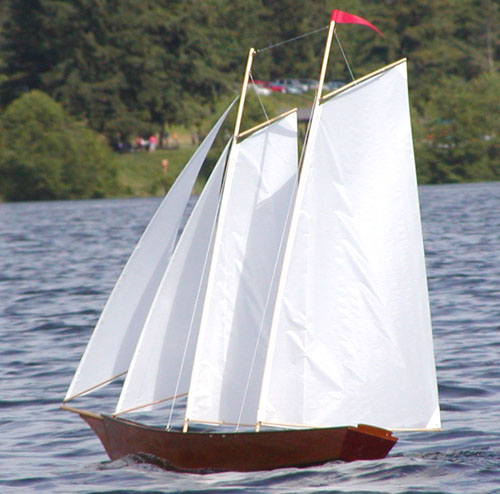 Below you will find a classic video of the T47 RC Schooner sailing.
The music that accompanies this video was played for me by an old Scotsman who had sailed around Cape Horn on one of the last of the great Clipper ships when he was just 14 years old. I interviewed him 35 years ago and he told me the story of how he had set to sea on a great ship.
He began by playing this song, "A Sailor's Way" from a 1930s recording on a 78 rpm record disk. For the entire recording of the interview from 35 years ago, click here "The Sailor's Way". Few, if any, of these ancient mariners who sailed on board working clipper ships still remain. They would be approaching their centenary years by now.
Click on one of the following file sizes to view the T47 RC Schooner sailing video:
T47 RC Schooner: A Classic, click for largest file size (Windows Media Player /.wmv)
T47 RC Schooner: A Classic, click for medium file size (Windows Media Player /.wmv)
T47 RC Schooner: A Classic, click for small file size (Windows Media Player /.wmv)
T47 RC Schooner: A Classic, click for still smaller file size (Windows Media Player /.wmv)
T47 RC Schooner: A Classic, click for smallest file size (Windows Media Player /.wmv)
Happy Sailing, Will
[Home Page | More Movies | Owners Pictures | More Fun Pictures | Excellent Sailing Performance | radio control T37 | T Class Racing Sloop | T15 Racing Sloop | T12 Cruiser | Order Form]