[Home Page | Owners Pictures | Movie Page | YouTube Videos | More Fun Pictures | Excellent Sailing Performance | radio control T37 | T Class Racing Sloop | T15 Racing Sloop | T12 Cruiser | Order Form]
Master Craftsman Award
The Master Craftsman Award is one of the greatest honors that Tippecanoe can confer on any builder. This Award pays the highest respect to builders who have done absolutely remarkable jobs in building their T37s and other Tippecanoe boats. Often these builders have built several T37s. The initial recognition of Tippecanoe Master Craftsman status is awarded to John Ive, Dan Newland, Rob Mulder, Todd Weber and Carl Miller for absolutely brilliant craftsmanship and excellence in building their T37s. These builders have gone far beyond basic building concepts in creating stunning designs for the look of their boats and in adding splendid custom details to their boats. This is one of the wonderful options one has in building a wooden boat since wooden boats easily lend themselves to inventive and creative additions.
Many builders have done spectacular jobs in building their Tippecanoe boats and the list of builders being recognized for the Craftsmanship Award could certainly include many more names, but I think all builders will recognize that the work of these first five Award Winners is beyond exceptional and takes the building of the boats even further than the realm of craftsmanship and into the realm of remarkable artistic creation. The pond yacht is a classic and elegant form of American traditional art dating back to the seventeen hundreds. The master builders represented here have added a new chapter to the story of the art form embodied in model pond yachts that actually sail. Congratulations!
You can read more about each of these builders below with pictures of some of their finest creations. Click on any of the pictures below (or at the top of this page) or the underlined link words to visit pages with many more wonderful pictures of each artist's creations!
 John Ive
John has built 6 T37s for himself and helped friends build several more. All of John's work is exceptional and perfect in every detail. One might expect this from a retired orthodontist. Many of John's T37s are built around a theme. After building several earlier T37s, John requested hull number 1776 and named the yacht "Independence". The boat is a stunning combination of rich red mahogany veneer wood tones with stars and stripes on a red and blue background. Another of John's  T37s, named "Goldilocks", is hull number 1962, his wife Laurie's date of birth. On the deck is a splendid inlay effect of a beautiful girl with flowing blond hair with bear prints leading forward to a small bear created with the same inlay effect on the bow deck.When you see how beautifully executed the design and the workmanship are, you will be entirely in awe of what John has created and the creative spirit that went into conceiving the idea. And talk about perfect finishes! John buffs his clear finishes out and polishes with 30,000 grit polishing compound! Not only is John's workmanship superb, he also sails his boats very skillfully and is an expert at tuning his T37s for superb boat speed. And do you think Laurie came up with the name for John's yellow boat in the pictures, or did John think that up? Don't miss John's tug which he created from the T24 Tug Kit and added the fantail stern and smokestack and a variety of other terrific details.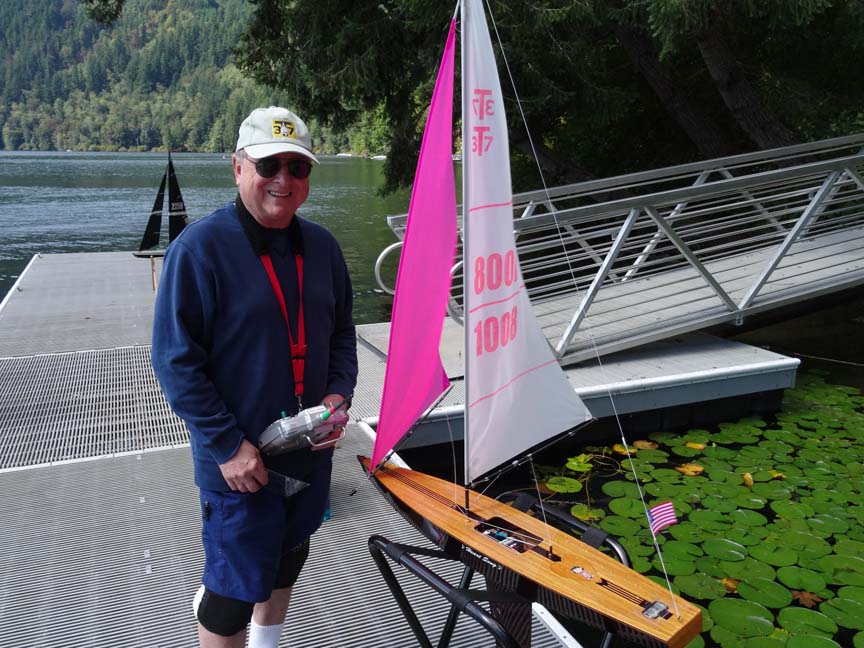 Dan Newland of Pegasus Aeromarine
Dan Newland has been instrumental in helping new skippers build their T37s. If you have watched the "T37 Builders Guide" video on YouTube, you know Dan from the video. Dan called me one day and said he thought we needed a video showing how to build the T37. "I'll make it for you," Dan said. Well that was the best idea ever. So many people have commented on how great Dan's video is. Dan made the video for no charge, just because he felt it would help the T37 Class grow so more people could enjoy the T37s. If you know Dan, you know that Dan does everything to a very high level of perfection. He designed and built his own 36 foot ultra-light, carbon fiber racing machine, Pegasus, which he races on Puget Sound. Pegasus is a beautiful sailing yacht and very fast. Dan also does a lot of aviation work repairing and helping build private planes. Dan's T37 is painted to match the colors of his yacht Pegasus, and, like his large yacht, Dan's T37 Pegasus XIV is very fast and has often led me and the rest of the fleet around the race course. Dan won the first place trophy at this year's T37 US National Championships hosted by the Seattle Yacht Club in a very competitive fleet of 26 boats and is the 2015-2016 National Championship, taking the title from Bill Jones who held it for two years. Dan has also hosted a series of building workshops in his own shop for T37 builders who want to enjoy the camraderie and expertise of other T37 builders while they work on their own T37. There can be no finer workmanship than Dan exhibits in everything he does both in his many hobbies and in his company Pegasus Aeromarine. Dan is also an active pilot with many hours of flying full sized planes.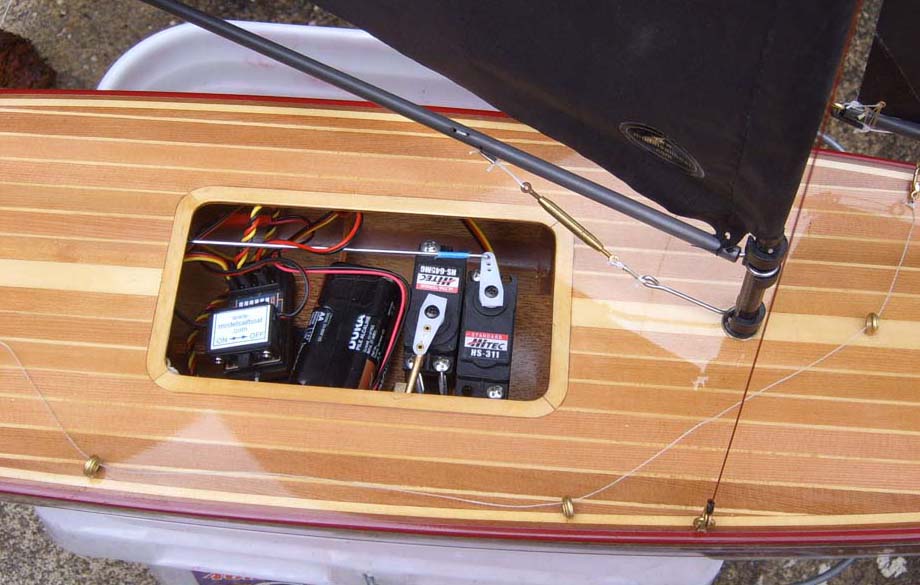 Rob Mulder of Roberts Composites
Rob Mulder has built nine T37s now for himself. He has helped many other builders complete their boats during open house evenings in his West Vancouver (BC) workshop. Rob also builds some of the fastest competitive windsurfers in the world and does a range of other top quality, state of the art composites work especially in carbon fiber for sailing teams. Rob completed his most recent T37 in just 4 days and was sailing it on the afternoon of the fourth day. The finish on this boat, like all of Rob's work, is perfect. Rob included beautiful details like vacuum bagged mahogany strips on the custom cabin. The paint designs on all of Rob's boats are especially striking and dynamic. Everything about the boats is totally impressive. All of Rob's T37s are incredible works of art, and to have built his last incredible boat in under 4 days is a remarkable feat, nothing short of amazing. Rob has also been instrumental in getting T37 racing organized in Vancouver, BC. The second T37 Canadian National Championship Regatta was held in Vancouver this past October. Rob may have outsailed everyone else for speed, but took third place because of some occasional mishaps on the racecourse. Rob brings a lot of fun and a lot of skill to all of our events, frequently appearing down in Seattle for the bigger PNMYC races and regattas."If it's not fun, I don't do it," Rob says.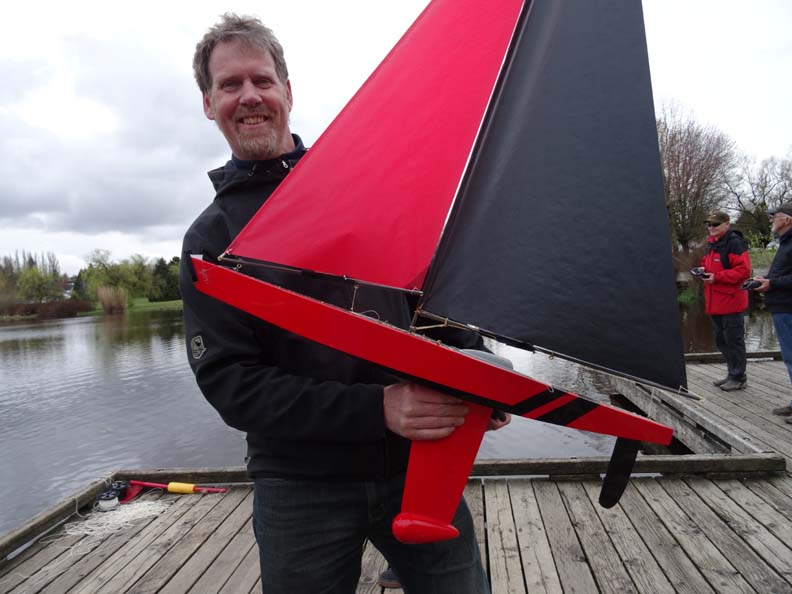 Todd Weber
Todd Weber has built only one T37, but he is an expert and highly accomplished jeweler and his finish work and custom fittings are on a level that we have never seen before - right up to the bow pulpit with anchor and several crew on board with one looking out the windows of the cabin! Feast on the details Todd has created for his T37, "Mariah", named after a Peregrine Falcon that Todd rescued and gave safe harbor to. Todd also, in his spare time, serves as a guide on Columbia River Cruises where he brings alive through stories, demonstrations and artifacts the expedition of Lewis and Clark.
Click here for more pictures of the details that Todd has brought to his T37 Remote Control Racing Yacht.
Carl Miller
Carl Miller is in a class by himself. After building two immaculately beautiful T37s to a perfect and classic yacht standard, he then built a phenomenal T65 (65 inches long = over 5 feet) in strip planked western red cedar. Next he finished a 75 year old sailing model that his father had started. Then he built a splendid T47 two masted schooner, Tiki, for his friend Dick Medve with splendid custom additions including two cabins, shrouds ending in wooden deadeyes, tanbark sails with reef points, a Hawaiian figure head that would scare any shark in Hawaii and a splendid paint job. Carl's current project is a custom 6 foot sailing model of the 34 foot Audax, the boat Carl grew up sailing on in the Chesapeake. Carl sent me the original blueprints that he had saved for many years. I programmed the lines into our computer and cut out the hull sections for the strongback. Tippecanoe supplied the cedar strips for the hull. This has been an amazing project and the boat seriously looks like a full size sailing sloop in progress in Carl's shop. If the pictures appeared in Wooden Boat Magazine, you would have to look twice or three times to realize that this is a model, not an actual full sized boat being built! Every miniature deck beam is perfect. In fact everything is perfect and exactly to scale. The cedar strip planking on the hull is spectacular. Every boat that Carl puts his hand to is a splendid work of superb craftsmanship! Perhaps we should present the craftsmanship awards at Carl's beautiful home in Hawi, Hawaii! Carl, along with Dick Medve, has also been instrumental in getting a fleet of 7 T37s racing on the island. In between all of these beautiful sailing boats, Carl also built a skiff for setting racing marks for his model boats.
Carl stands beside his gorgeous T65 Racing Yacht!
[Home Page | Owners Pictures | Movie Page | YouTube Videos | More Fun Pictures | Excellent Sailing Performance | radio control T37 | T Class Racing Sloop | T15 Racing Sloop | T12 Cruiser | Order Form]